Missouri Intensive Outpatient Program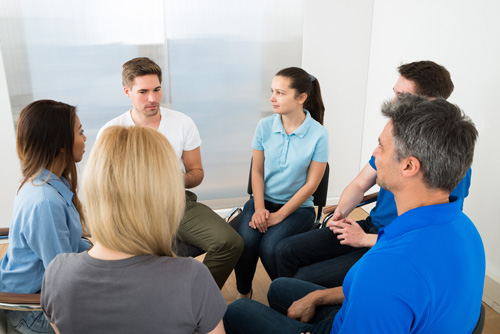 Our Intensive Outpatient Program (IOP) in Missouri is designed for individuals who can manage many aspects of their life without round-the-clock monitoring or inpatient medical detox for alcohol and drugs, or who may have completed a residential treatment stay.
The Intensive Outpatient Program (IOP) schedule allows for one to attend college, manage their work schedule, and maintain their family life while receiving treatment and support necessary for long-term recovery.
What Does Our Missouri Intensive Outpatient Program Address?
At The Aviary, Intensive Outpatient Program (IOP) in Missouri comprises 3 – 5 sessions a week for 3 hours each session with a licensed mental health professional. The flexible schedule and program elements are designed to support your recovery by helping you develop:
Life skills
Communication skills
Relationship skills
Insight into behaviors of self and others
A strong support system (family, AA, positive peer groups)
Depending on your needs and the needs of the group, other treatment approaches may be used to work through co-occurring issues that create stumbling blocks to recovery. This may be accomplished in group, individual, and/or family sessions designed by your primary therapist.
These sessions are aimed at building coping skills and changing the way you have responded to challenging situations in the past. The ability to continue with your life during intensive treatment gives you the opportunity to put these skills to work while processing and fine-tuning them during treatment episodes.
Goal: Long-Term Recovery
Aviary's Intensive Outpatient Program (IOP) in Missouri is designed to build skills needed for long-term recovery. Treatment may last a few months to reinforce these skills. Research has noted that those who stay in treatment and follow the treatment plan have 60% more likelihood of long-term sobriety. Success requires a commitment to develop the insight, skills, and understanding to build resiliency to the chronic illness of addiction. Consistent and continuous connection to the tenets of treatment is needed to develop the skills for a lifetime of recovery.
Missouri Intensive Outpatient Program (IOP) Schedule:
Monday-Wednesday, Friday 9:00 am -12:00 pm
Monday, Tuesday, Thursday 5:30 pm – 8:30 pm
Alumni Aftercare: Tuesday 4:00 pm – 5:00pm
Family Wellness: Wednesday 6:00 pm – 7:30pm
333 S. Kirkwood Ste 303 (Inside PNC bank)
Kirkwood, MO 63122
Parking in the back is the best option!
Individual sessions are also available. More information will be shared during appointment scheduling.
For more information about The Aviary Recovery Center's Intensive Outpatient Program (IOP) in Missouri
,
please
contact us
anytime at
(888) 989-9505
. We're here to help.